THE Israel CULINARY EXPERIENCE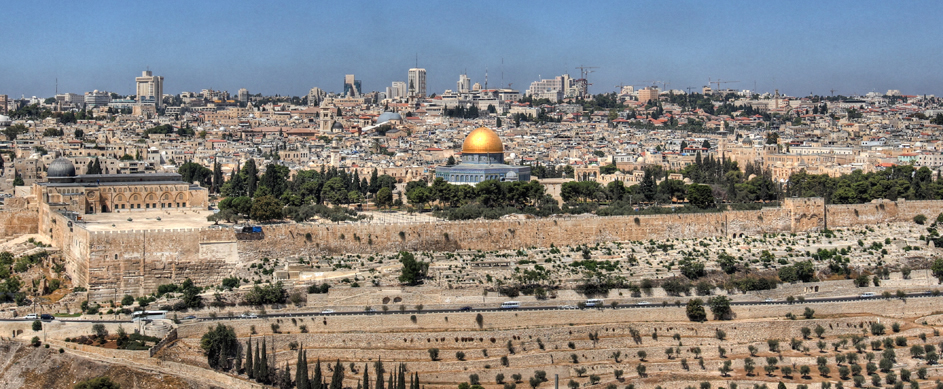 Prepare to be immersed into an incredible culinary experience from the culture that originated the phrase 'breaking bread,' which means sharing a meal together! As you journey into fascinating Israel, the land rich in history that is a highly sought after destination, you will be guided into 'tasting' the richness of the history along the way with Runaway Chef Michael Ginor. You will experience Israel's famous markets and villages by day, enjoy some nightlife at key venues, and visit historic sites and wineries that toast Israel as a truly amazing land.

Overview
| | | | | |
| --- | --- | --- | --- | --- |
| | Series: Dates: Departures: Max Group Size: Price: Sovereign Society Credit: | Culinary Journeys October 30-November 8, 2014 1 20 Starting at $8,821.00* 10 | | |
Chef Michael Ginor
Michael Ginor is co-founder and Chef of Hudson Valley Foie Gras, the most comprehensive Foie Gras producer in the world. Michael, with his partner Izzy Yanay, modernized the ancient delicacy known to Pharos and kings by utilizing the hi-tech and scientifically advanced production techniques of the twentieth century. Production is now a unified, controlled and consistent operation based on nature, nurture, and technology. It is a closed, independent production system where the duck and the egg both come first!

Michael was born in Seattle, Washington, in 1963. He is a graduate of Brandeis University and studied for an MBA at New York University. After four years on Wall Street as a Senior Vice-President with David Lerner Associates he decided to take a revolutionary step: having been born to Israeli expatriates living in America, in 1988 Michael joined the Israeli Defense Forces. He served as a patrol-commanding Captain in the Gaza Strip and as the Israeli Defense Forces spokesperson. It was in Israel that Michael first discovered the potential of modern-age Foie Gras processing. Michael pursued his dream by establishing what is today the major Foie Gras producer in the United States. The company distributes its moulard duck products through a network of distributors extending throughout the United States, and beyond.

HVFG has received the 1993 Gold Merit Award from Chefs in America and the 1996 Award for Excellence from The James Beard Foundation. In 1996, HVFG received the Five Star Diamond Award from the American Academy of Hospitality Sciences and the 1998 Award of Excellence from the American Tasting Institute. Michael has served as Honorary Event Chairman for the Spinazzola Foundation and the Cystic Fibrosis Fund. In May 1996, Michael received the first Olive Branch Award from the Jewish National Fund for humanitarian and professional achievements. He was honored with the 1997 Angel Award from The James Beard Foundation for dedication, contribution and foresight and in 1998, Michael received the American Master Taster Award from the American Tasting Institute. Both Michael and Izzy Yanay were inducted into the James Beard Foundation Who's Who of Food and Beverage.

While HVFG is the bedrock of Michael's pursuits, since 1990, Michael has dedicated his time to the many facets of the culinary world, including product development, creating and organizing gourmet and charitable events, workshops and demonstrations. Thus, Hudson Valley Foie Gras is committed to and is associated with: The James Beard Foundation, where Michael serves as a member of the National advisory Board, The Culinary Institute of America, New England Culinary Institute, Meals on Wheels, Share Our Strength, The Robert Mondavi Master Chefs Program, The Television Food Network, The Masters of Food and Wine, The St. Mortiz Food & Wine Festival, Singapore World Gourmet Summit, and the Bangkok World Gourmet Festival among numerous others.

Michael is also founder of Culinary Brainwaves which consults to the gourmet food industry. He has worked with Rio Suite Hotel & Casino, Las Vegas; Hyatt International; The Regent Group; The Four Seasons Group; Shangri-La Sheraton International; Inter-Continental and the Disney Corporation. He inaugurated the Food and Wine Festivals for Club-Med International.

Michael organizes culinary events and festivals worldwide. By bringing together celebrated American chefs and local chefs, Michael helps to create an intercultural culinary exchange program, which introduces American ingredients and techniques to world markets. Such events have been organized in Argentina, Canada, Chile, Great Britain, Finland, Hong Kong, Israel, Mexico, Russia, Singapore, and Thailand. He is a board member of the Pebble Beach Food and Wine Festival and the World Gourmet Summit.

Michael is a food and travel contributor to such stellar publications as Food Arts Magazine; The James Beard Magazine; Art Culinaire; Coffee & Cuisine; Singapore's Cuisine Scene and Great Britain's Great Hospitality. His cookbook, the internationally acclaimed Foie Gras…A Passion, is a comprehensive reference book accompanied by 84 recipes, received the prestigious 1999 Prix la Mazille for best international cookbook of the year from the International Cookbook Revue in Versailles.

Michael, along with Chef Ken Oringer launched Boston's La Verdad, a casual Mexican Taqueria and restaurant, which has already been awarded "The Best Casual Mexican Restaurant in the US" by Bon Appetit Magazine and "One of the best 100 Restaurant in the US" by Food and Wine Magazine.

In July 2007 Michael opened TLV in Great Neck, NY, a Mediterranean restaurant which is garnishing critical acclaim and has received three stars from Newsday – "An oasis of serious food…. by culinary luminary Michael Ginor" as well as "best new restaurant (Long Island) 2008'. It received a Zagat "most notable" distinction in 2009. In September 2009 Michael opened "Lola", a new personal cuisine restaurant, also in Great Neck, NY. Lola is already being hailed as one of Long Island's best restaurants, receiving 3 ½ stars from Newsday, and described as "brilliant, volatile…shooting stars". Michael has recently hosted a one-hour Television special food and travel program titled Run Away Chef in Thailand to be aired by PBS in late 2010 and 2011.
Questions? Call Sovereign at 877-661-6458 ext. 253